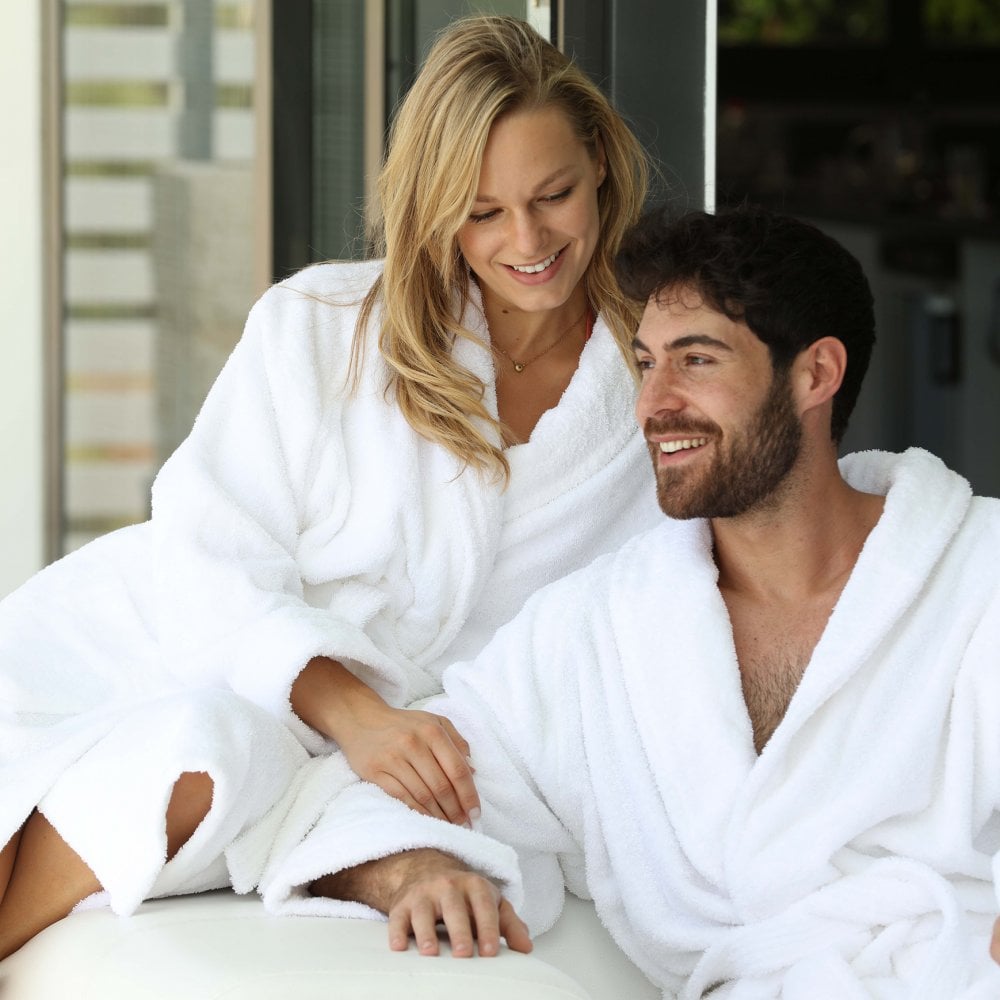 What is the difference between a bathrobe and a dressing gown?
The terms bathrobe and dressing gown are often confused for being the same product. Yet they do refer to different products with different uses.
Bathrobes and dressing gowns are both loose-fitting robes. Worn by both men and women, they are often unisex garments. Worn inside and around the house. Both our toweling bathrobes and fleece dressing gowns have shawl collars. They both have shawl collars. Both gowns have twin pockets and feature self fabric belts and coat hook. Both gowns are the same cut size, being manufactured from the same pattern. The length and chest measurements of both gowns are the same. Although there are many similarities between them, they are not the same.
A bathrobe is a robe, manufactured from a water absorbent material like toweling. A bathrobe can

be worn

after having a shower, bath or swim, with the intention of drying the wearer off. The dressing gown is a robe manufactured from a soft, warm, plush material like coral fleece. The dressing gown can

be used

all day long. Keeping you warm in the mornings while you get ready for your day. Lounging around the house in the day while you work, ready or watch your favourite TV program. Or at wearing at night over your pajamas' to keep warm and comfy.
The Bathrobe
A bathrobe is a loose-fitting outer garment that both men and women wear. The popular toweling bathrobe is perfect after a bath, shower or around a pool. Toweling bathrobes are absorbent. They have the ability to absorb the excess water from your body. You can wear bathrobes when you are inside your home, around the pool or at the spa.
Bathrobes can make you warm if you are feeling cold after a bath or shower. Since bathrobes
are made
of absorbent fabrics, it can
easily
help you to dry off.
The Dressing Gown
A dressing gown is a long and loose robe worn inside the house. This is also known as a
morning gown
or a
housecoat
. A dressing gown has an open front which can
be closed
with a self fabric belt. It can
be worn
over nightwear when you rise from the bed. You can wear it over day clothes when you are
partially
dressed.
Dressing gowns are like bathrobes, only not usually made from absorbent material. Moreover, dressing gowns
are worn by
both men and women.
Conclusion
Both bathrobes and dressing gowns are garments for casual relaxation. Bathrobes
are made
from thicker, towelling and absorbent materials. Dressing gowns
are made
from soft, warm fluffy, synthetic coral fleece. Thus, this is the main difference between bathrobe and dressing gown.